Welcome to The Kindaichi Case Files Wiki.
The Wiki that anyone can edit.
We are currently editing over 515 articles, and 2,721 files
Featured Episode
Kindaichi Shounen no Jikembo Returns Episode 2 After the murder of Chan, Hajime and Saki stayed inside the house of Long Dong. While watching the Lazer Light show, they were greeted with another murder. Shan Li was said to be beaten to death in the room just above Long Dong's. As the gang tried to uncover the series of murders and mystery revolving around Hongkong, they uncover the true secret of the Poison Dragon, a bomb that can eradicate the whole land of Hong Kong.


Featured Murder
Ghost School Building Murders
While everyone gathered at dining room of Kogane Island Junior High School, Takeshi Akaguma, the tour guide of Kogane Island received an emergency call from Ayumu Kijo. After that, they heard a strange voice from her and a piano sound. They went to music room at 2nd floor, but unfortunately Ayumu Kijo was death. She was stabbed at her neck from behind.
Featured Character
Seiko Shikibu, she appeared as a suspect in Jail Gate Cram School Murder Case. She is student of Gokumon Cram School. Read more...
Featured Quote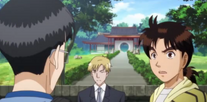 "
How could I abandon Miyuki and Ran?
"
Poll
What your favorite case on anime Kindaichi 1997 Series Part 1? (Episode 1 - Episode 23 & One Hour Special Episode)
Latest Poll
By 11 (50% of) votes,
the leader of the Third Poll,
for favorite case on anime Kindaichi Returns Season 2, goes to
Rosenkreuz Mansion Murder Case.
Runners-up: Young Kindaichi's Trip of Death Preparedness (6 (27.27% of) votes); Snow Goblin Legend Murder Case (2 (9.09% of) votes). The poll was created at 07:17 on November 16, 2017, and 22 people voted.