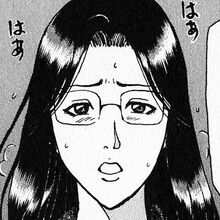 Manami Yasuoka (Japanese : 安岡まなみ Yasuoka Manami ) is the wife of Yasuyuki Yasuoka. She is the main suspect in Reika Hayami Kidnapping Murder Case.
Story
She originally has teamed up with his husband to make plan for the kidnapping of Reika Hayami and his own husband in order to make her realize of Yoko Kaburagi's true self. But in reality, she actually want to get revenge to her husband.
Sometimes before her meeting with Hajime Kindaichi, she has met with Yoichi Takato and got a murder plan from him.
Aftermath
Due to her own mistake that get the plan foiled, she was killed by Yoichi Takato who is in disguise of Hidenari Obuchizawa.
Ad blocker interference detected!
Wikia is a free-to-use site that makes money from advertising. We have a modified experience for viewers using ad blockers

Wikia is not accessible if you've made further modifications. Remove the custom ad blocker rule(s) and the page will load as expected.